Description
Equizaum® – the perfectly customizable, award-winning jack-of-all-trades:
The Equizaum® is infinitely adjustable and thus adaptable to the characteristic differences in horse heads of differing breeds. The optionally available noseband offers added value; shaped from a special fiberglass based material, the noseband is not only feather-light, but also offers the necessary stability in addition to enormous flexibility and ensures an even more comfortable fit of the Equizaum®.
In addition, the Equizaum® is multi-talented; its modular design allows up to 7 functions (side pull, bridle, halter, cavesson …)
Advantages:
Cost savings through a 7-in-1 product
Each Equizaum is a unique piece that can be personalized
Because of its easy adjustability, it can be used on multiple horses
Individually configurable
The Equizaum can perform multiple functions and is fully adjustable. We've often seen bridles where the cheek straps are too close to the eyes, pressing on the cheekbone and thereby irritating the horse. With the innovation of the Equizaum, such faults are in the past–the cheek straps are adjustable up to 4cm in either direction thanks to an opening on the noseband and can be fixed into place between the noseband and bridge. The jaw straps are also adjustable on the cheek piece so you can adjust its height.
The Equizaum serves as a cavesson and is great for longeing and groundwork (ie: Equikinetic, horsemanship). The Equizaum also works great as a headstall (with the headstall ring on the underside). Nose and neck straps are standard and padded on the underside with easy to care for Sympanova. The Equizaum can be outfitted with additional accessories to do everything from bitless riding or for use as a snaffle.
Following configurations can be added
Configuration as "SIDEPULL"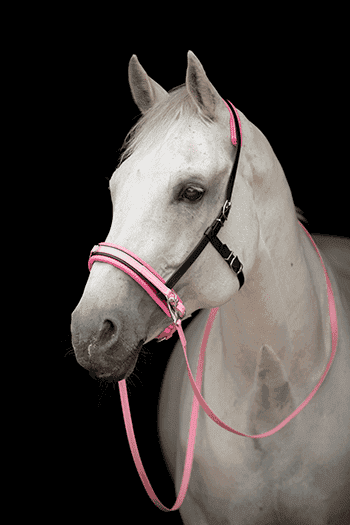 Additional rings on the side of the nose strap
Configuration as "BITLESS BRIDLE"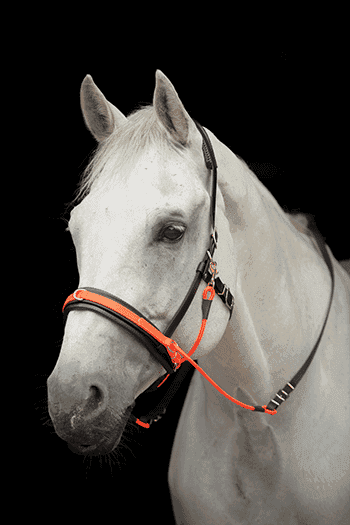 Includes a bitless bridle strap for attaching to the rings on the cheek straps and side rings of the nose straps, which also converts the bridle into a sidepull if needed.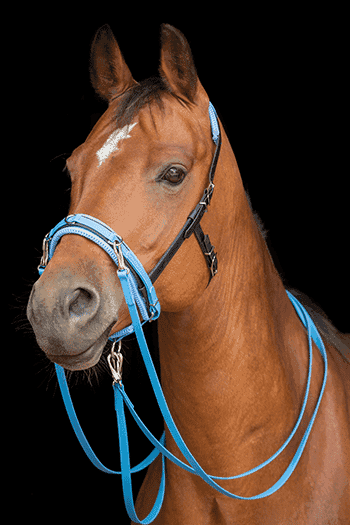 Rings on the nose straps, closer to the middle of the nose, with an additional ring on the underside of the nose strap converts it for the function of a bosal if needed.
Configuration as "SNAFFLE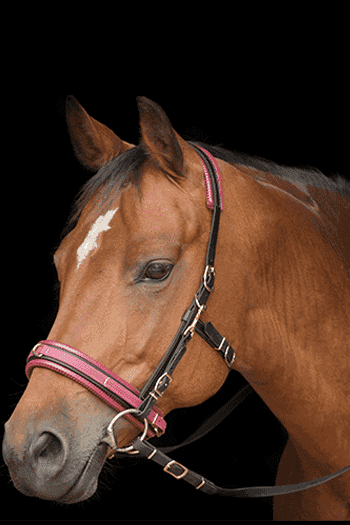 Additional rings on the cheek straps plus suspenders for attaching the bit.
Configuration as "SNAFFLE WITH SWITCH"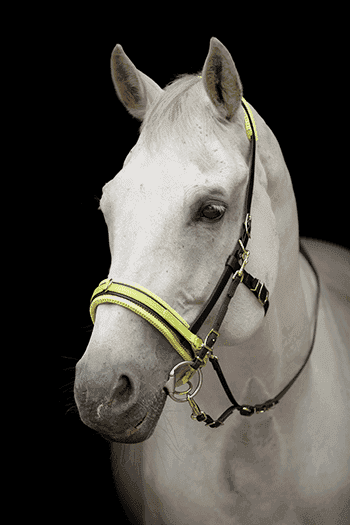 Additional rings on the side of the nose straps plus on the cheek straps as well as suspenders for a bit and Switch for the double functions of a sidepull and a snaffle for new riders, colts, or easy conversion for bitless riding.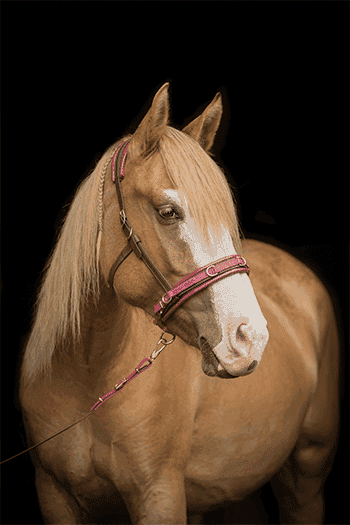 Folgende Module sind enthalten:
Modul Sidepull, Bitless-Bridle, Bovecon, Trense mit Weiche.
Additional option: Noseband
Imbedded in soft reliable Sympanova padding, the noseband makes for a plush fit for the Equizaum and a more precise longeing. Of course we don't use any metal in our nosebands. After a multitude of tests with prototypes out of various materials, we decided on a unique lightweight fiberglass-like texture for flexibility, but with enough guaranteed stability. The material also doesn't splinter when broken. The noseband –available in two sizes- fits wonderfully on every horse. Your horse can chew on it all it wants, but rest assured the noseband will stay secure in its place.
Zusatzoption: Neck Patches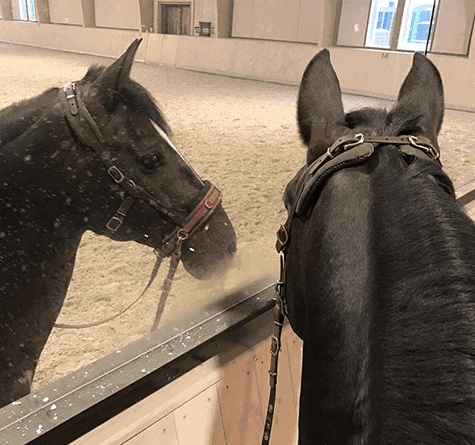 Neck Patches: Unser zweigeteiltes Genickpolster, das für eine Druckentlastung im sensiblen Genick- Bereich deines Pferdes sorgt.
Die bewusste Unterbrechung der Linie vom Maul zu den Ohren und die damit verbundene Verteilung des Druckes auf die anatomischen Polsterkissen verhindern die punktuelle Belastung. Die Patches sind über einen längenverstellbaren Steg miteinander verbunden, um ihre Position individuell optimal einstellen zu können. Die Neck Patches sind so geformt, dass die Partie hinter den Pferdeohren ausgeschnitten ist, zudem ist der Schnitt so gewählt, dass die weiche Unterseite nach oben gezogen ist und somit keine Nahtkante von hinten an die empfindliche Rückseite der Ohren drücken kann.
Customization: How to messure Equizaum® right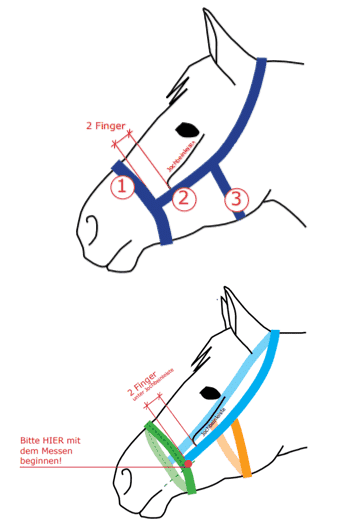 Please download following PDF files for perfect messureing and positioning.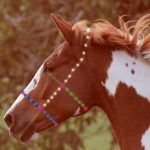 ---
* applies to deliveries within Germany. Please refer the button "Shipping Information" for delivery times of other countries.